There appears to be quite little written on the relationship between the philosopher of language Hermann Ammann and phenomenology. A single letter in the Husserl Nachlass (see below) along with Ammann's contribution to Husserl's Festschrift indicate that he studied with Husserl at Freiburg where Ammann was a Privatdozent.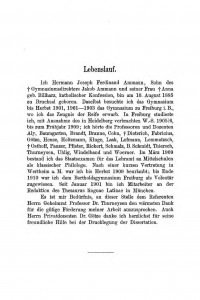 Hermann Joseph Ferdinand Ammann was born in Bruchsal, Germany, on 10 August, 1885. In WS 1905/06, Ammann began his studies at the University of Freiburg, where – aside from a brief stay in Heidelberg – he received all of his academic training. Though his field of study was philology, Ammann studied with a number of philosophers, particularly the Neo-Kantians Jonas Cohn, Emil Lask, Heinrich Rickert, and Wilhelm Windelband. In March of 1909, Ammann completed his Staatsexamen, and in July 1910 completed his dissertation, Die Stellungstypen des lateinischen attributiven Adjektivums, under the supervision of Rudolf Thurneysen.
After World War I, Ammann began working on his Habilitation in Comparative Linguistics with Ludwig Sütterlin in Freiburg. It is at this time – between 1919-1923 – that Ammann would have met Husserl. It was also during this time that Ammann presumably met Hendrik Pos, with whom he authored the article Zur Problematik der Sprachphilosophie (1929).
Here you can find a partial bibliography of Ammann's works, a handful of which can be found in Husserl's personal library.
~
Husserls Empfehlungsschreiben für Ammann, Die menschliche Rede,ca. 1924 (Abschrift)
[from HuaDok III.4: 4-5]
Das Ammann'sche kleine Buch "Die menschliche Rede" ist ein sprachphilosophisches Werk von ungewöhnlichem Reichtum und tiefem Gehalt. Ich stehe nicht an ihm eine bahnbrechende Bedeutung beizumessen. Sie beruht vor allem darauf, dass der Verfasser in einer seltenen Geistesfreiheit sich von allen Fesseln grammatischer, aber auch sprachphilosophischer Tradition frei macht und es unternimmt, eine radikale Besinnung über das Wesen der Sprache aus dem Sprachbewusstsein zu vollziehen, wie es die lebendig funktionierende Sprache begleitet, die allgemeinen und notwendigen Strukturformen der Sprache herauszustellen, ohne welche diese menschliche Funktion ihren Sinn verlöre, Sprache nicht mehr Sprache wäre. Alle sprachphilosophischen Grundbegriffe müssen diesen lebensvoll erfassten Phänomenen direkt und vorurteilsfrei angepasst werden und dienen dann als Normen für die Interpretation der grammatischen Phänomene und die Kritik traditioneller grammatischer und sprachphilosophischer Theorien. So entwirft Ammann in echt phänomenologischem Geiste den Grundansatz und die prinzipiellen Richtungslinien sprachphilosophischer Forschung – wobei aber zu bemerken ist, dass er sich auch von einer schulmässigen Anlehnung an die phänomenologische Richtung fernhält und alles was er sagt aus selbst Erarbeitetem schöpft. Bedeutend wie der Problemansatz ist auch die Ausführung. Sie überrascht immer wieder durch ihre echte Originalität, die nicht mit geistreichen Einfällen spielt, sondern aus der Fülle sprachlichen Lebens Einsichten schöpft. Kapitel für Kapitel stossen wir auf sorgfältige und bleibend wertvolle Analysen, lessen sehr Förderliches und oft Erleuchtendes über das Wesen der Bedeutung in ihren verschiedenen Formen, über Namen und Identität, über das Verhältnis von Idee zu Begriff und zu anschaulicher Vorstellung, über das Problem des Verbums (Bedeutung als Lebensgehalt und Erlebniswert). Sehr originell ist zum Schluss die Auffassung des Eigenschaftswortes (Adjektivs bezw. Adverbs) als eine mit Nomen und Verbum gleichbedeutende Grundkategorie ("Eindruckswort").

Alles in allem: es ist ein erster entscheidender Anfang einer phänomenologisch orientierten Wesenserforschung der Sprache, der gerade dadurch bleibend bedeutsam ist, dass der Verfasser die konkreten Bedürfnisse prinzipieller Klärung zu befriedigen sucht, die ihn als Sprachforscher bewegen.